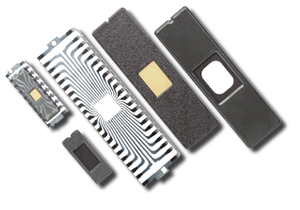 Cerdip Package
---
The CERDIP dual-in-line package has the same high performance characteristics as the standard three-layer ceramic package, yet is a cost-effective alternative.  It is a military approved package with excellent reliability characteristics.
The base and cap consists of a single pressed layer of 92% Alumina (Al203). The base typically has a lead frame that is hermetically embedded in solder glass.  Packages are available in a variety of lead counts and body sizes.
CERDIP sets are sold as three separate components – base, frame and cap.  Spectrum can have bases and frames attached for you at a nominal charge.
Due to our extensive inventory of bases, frames and caps we ask that you contact us directly so we can help you find the best solution for your package requirement. 
Please have the following information available so we can further expedite your request:
Lead Count
Ceramic Body Width
Die size (cavity size)
Preferred sealing glass
Quantity
Die Attach Method